O-T-C Original Trenton Crackers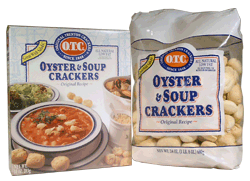 OTC Packaging:
Note: Items are 12 Oz size only. Box pictured above is what is shipped in quantities of 12 per case!
The 12 Oz bag, also pictured, is usually found in N.J. grocery stores like Acme!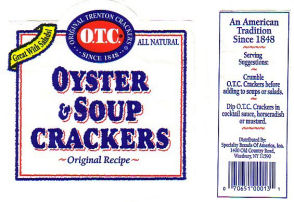 O-T-C Trenton Crackers Bag Label

Hint for Ordering:
Contact them and they'll send an order blank.
You can buy them by the carton of 12 boxes inside!!
OTC Links of Interest from the Specialty Brands of America company:
History of the O-T-C Trenton Cracker goes way back!
Related O-T-C Product Line
Back to Cooking Page

Graphics Notice:
Above Images are Copyrighted and Trademarked by Specialty Brands of America Inc.
Permission was granted to utilize them for this website, on 12-3-04.