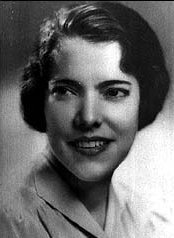 Jean MacArthur, the Widow of GOA Douglas MacArthur, has joined him 1/22/2000.
Web posted at: 4:30 PM EST (2130 GMT) on CNN.
NEW YORK (AP) -- Jean MacArthur, wife of the late Gen. of the Army Douglas MacArthur, who won admirers around the world with her
vibrancy and charm, died Saturday. She was 101.
Mrs. MacArthur died at Lennox Hills Hospital in New York, said Col. William Davis, director of the MacArthur Foundation in Norfolk, Virginia.
She was at her general's side in war and peace. She accompanied him aboard a PT boat when he was ordered out of the Philippines to escape
a Japanese siege at the outset of the war in the Pacific. She represented him at official and social functions and mingled with throngs of
Japanese on her trips around Japan during the postwar occupation. She shared his homecoming when he was relieved of command during the Korean War.
Near his death in 1964, MacArthur described her as "my constant friend, sweetheart and devoted supporter."
She had remained active in theater, opera, civic and philanthropic pursuits and served as honorary chairman of the Norfolk, Virginia,
foundation created as a memorial to her husband.
"Jean MacArthur has witnessed the great cataclysms of our time, survived war and peace, conquered tragedy and known triumph,"
President Reagan said in awarding her the Presidential Medal of Freedom in 1988. The citation for the medal, the nation's highest civilian
award, called her "a shining example, a woman of substance and character, a loyal wife and mother, and like her general, a patriot."
"People are so good to me," she often said.
Jean Marie Faircloth was born in Nashville, Tennessee, on December 28, 1898. Her parents divorced when she was very young and her mother
took her children to live in their grandfather's home in Murfreesboro, Tennessee.
She traveled widely after college and was on her way to China when she met MacArthur aboard ship in 1935. He was headed for Manila to
become military adviser to the government of the Philippines.
MacArthur and Miss Faircloth were seated together at dinner. He sent flowers the next day. "That was that," she said later. She got off in
Manila and remained for 11/2 years as their romance flowered. They were married in a quiet ceremony in New York on April 30, 1937.
It was his second marriage, her first. Thereafter, it often was noted the general greeted his wife with great affection, no matter who was present.
Their son, Arthur, was born in Manila in 1938. Mrs. MacArthur, while unassuming in public, strenuously guarded her family's private life.
They entertained only during lunch; their evenings often included private showings of movies.
Despite her husband's status, she patiently waited in line at Army stores and commissaries, not asking any special privileges.
Mrs. MacArthur remained a woman-about-town in New York through the 1980s, her name appearing in write-ups of parties attended by
the rich and famous. She was a big baseball fan and once recalled attending the Brooklyn Dodgers' celebration after they defeated the New York Yankees in the 1955 World Series. When the Dodgers moved west she became a Mets fan. On a visit to the MacArthur Memorial in late
1990 she talked animatedly of Darryl Strawberry's decision to leave the Mets and join the Dodgers in Los Angeles.
She is to be buried with her husband at the MacArthur Memorial in Virginia, a domed building dating from 1850 that once served as Norfolk's
city hall. It is now part of a complex that includes the Jean MacArthur Research Center, which houses her husband's archives.