Snipers !!!
One of the Most Feared Warriors !
They are the undisputed Masters Of Distance-Delivered Death !!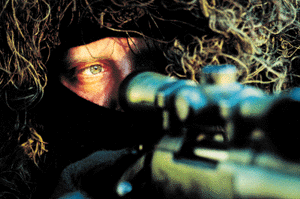 All Major branches in Special Operations Forces have
soldiers trained as snipers, all of whom are experts at
picking off the opposition leaders from a spot far away!
Here are some websites providing resources regarding
Snipers, their techniques, their weapons, and missions!
*********************************
Sniper Web "Sights"
ASOSA: American Special Operations Sniper Association
SniperCountry
Sniper's Hide Site
USMC Scout Snipers
Sniper's Paradise
Sniper/Shooter Links
Sniper Information Page
Ultimate Sniper Page by Major John Plaster
5th Marine Snipers
Sniper Central
Precision Arms
Major Weapon Makers
(For the "2nd Amendment Right to Bear Arms" Community :)
Accuracy International
Anschutz
Armalite "AR"
Arnold Arms
Barrett
Browning
Dragunov 7.62 SVD Sniper Rifle Manual
Glock (Handguns only)
Heckler and Koch
Israeli Guns (Remtek): Uzi, Desert Eagle Galil
Mauserwaffen
Parker-Hale (new)
Remington
Robar
Sako
Sig
Smith and Wesson
Springfield
Steyr Mannlicher
Winchester
Books on Snipers !!
"SNIPER"-Master Of Terrain, Technology, Timing. A Hunter of
Human Prey and Military's Most Feared Fighter! By Adrian Gilbert, 1996
"Inside The Crosshairs", On Vietnam Snipers, By Michael Lee
Lanning, 1998
"Marine Sniper" Discusses Sniper legend Carlos Hathcock, 93 Confirmed Kills,
By Charles Henderson, 1988
"Silent Warrior" completes the story of legendary Marine Sniper Carlos Hathcock
By Charles Henderson, 2000
"Dear Mom, A Sniper's Vietnam (Letters), By Joseph T. Ward, 1991
Discusses the Marine Sniper Chuck Mawhinney, 103 confirmed kills!
"One Shot, One Kill" WW2, Beirut, Korea, VietNam Snipers,
By Charles Sasser, Craig Roberts, 1990
" Stalk And Kill", by Adrian Gilbert 1998.
"A Sniper In The Arizona", Co.F, 2nd Btn, 5th Marines, 1st Div
by Sgt John J. Culbertson, 1999.
" Dead Center", by Ed Kugler, SGT US Marine scout Sniper, 1999.
"The Phantom of Phu Bai", by Dr. Joseph Turner, Vietnam Corpsman,
Nathan House Publishing, 1999
"Sniper: Training, Techniques, and Weapons" by Peter Brookesmith, 2000
St Martin's Press, Thomas Dunne series
"Sniper Training and Employment" Military Circular TC 23-14 June 1989
Video of SEAL Snipers:
"The Silent Professional" Instruction Video
Personal Sniper Webs with some Equipment Links:
SEAL Sniper by Adam Ouzer