This Website Section is Dedicated to the United States Army Veterans!
West Point: A Trail Picture Documentary
On this trail marker are found True Words of Freedom Indeed!!!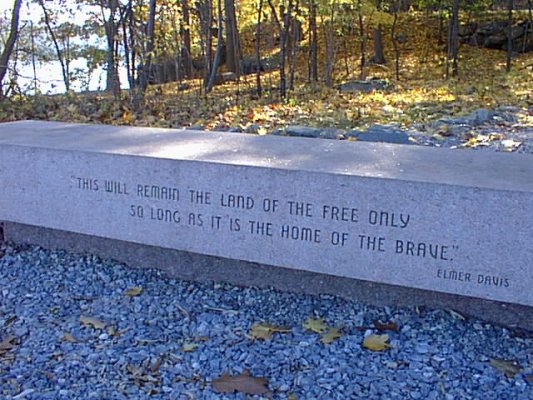 Elmer Davis quote carved on stone was found on trail along the Hudson River at West Point.
Comments by your host "Nightscribe" and tour guide "Summer":
On this beautiful trail of freedom walked the feet of a American Patriot! "Summer"
took pictures with a digital cam that really give the web viewers "on the trail" a sensation
of truly being there on land where cadets become the next leaders for the U.S. Army's
"freedom keepers". Here are some comments she made in regards to her Journey:
"It was such a oneness with nature. history, and God. I started out at
8:15 AM, and it seemed that God and I were together. Except for two
kayakers and three bikers, my companions were my Lord and History!"
Viewing the naturally sculpted landscape surrounding West Point, I feel I must agree
with her assessment :) Imagine buildings that seem to be built right into solid rock!
Well, here you'll find that this is exactly what the architects of West Point accomplished!
Plus many other spectacular sights are in store when you take this trail. I, "Nightscribe",
have used her photographs to create a sort of "Tour" of some places around West Point
including the Hudson River's majestic contributions to the scenes! The fall coloring in
some of the pictures is quite beautiful. Enjoy and follow my links! - Nightscribe
Get your Cyber Hiking Pole, for there are More! Proceed to Pic 2!
Credits: Pictures were taken by a Good Friend from Delaware who walked upon a great trail!
Thanks to my friend, these pictures should stir Patriots' Souls across the World Wide Web!