One of My Banjos
Here I was attempting to pick a banjo in Georgia in 1977! Bluegrass is very popular there!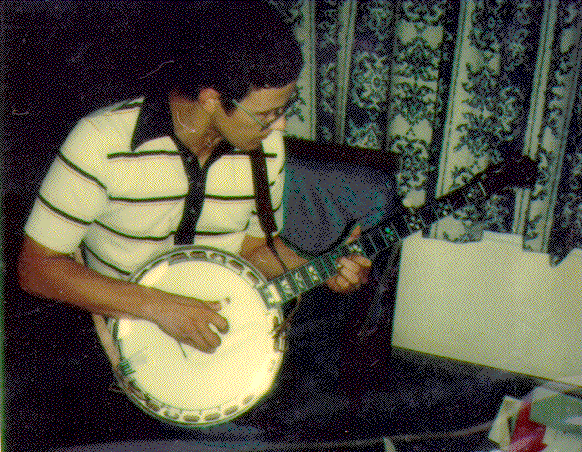 It is an RB3 Gibson Mastertone Copy, purchased from
Scott Fuller of Rockmart, Georgia,
"Bluegrass Specialties" label.
Chrome Plated, ebony fingerboard, walnut resonator and neck.
In Dec 2005, I made the following changes to obtain the biting, extremely powerful "vintage" bluegrass tone:
Replaced 3/4" 3-Ply rock maple rim with a Tony Pass Birch Lost Timbre 500TS Block Rim;
Replaced the Steve Ryan nickel plated tone ring with a Paul Hopkins nickel plated Flathead Tone Ring,
(made using a metal formula very similar to the bell-bronze tone ring in his original 1937 RB3 Gibson banjo!)
For a tonal comparison, I installed a Tony Pass "Woodie Model" 500TS Birch, which has an extra layer of
block wood, made with the exact shape of a flathead tone ring; resulting in a One-Piece Rim and Tone Ring combined!!!
This rim has such a pure tone loud output!! I was surprised when this was installed, how great its TONE is!!
Like someone told Tony Pass when he heard that rim.. "what are we spending all this money on tone rings for???"
I also own a Stelling Staghorn that I got used from Mandolin Brothers, and upgraded it in Nov 2005
with a Tony Pass 600TS Birch Block Rim. It sounds fantastic now! Although the banjo is not pre-war,
to me it SOUNDS better than what a Gibson Pre-War sounds now, as though this Stelling banjo were made in that era!
AWESOME, these Tony Pass Rims are!!!