Flatt and Scruggs 1948-1959
Bear Imported 4 CD Boxed Set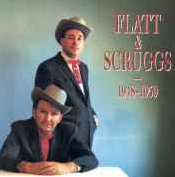 DISC 1
01. God loves His Children
02. I'm Going to make Heaven my home
03. We'll Meet Again Sweetheart
04. My Cabin in Caroline
05. Baby Blue Eyes
06. Bouquet In Heaven
07. Down The Road
08. Why Don't You Tell Me So?
09. I'll Never Shed Another Tear
10. No Mother Or Dad
11. Is It Too Late Now!
12. Foggy Mountain Breakdown (Instr.)
13. I'll Be Going To Heaven Sometime
14. So Happy I'll Be
15. My Little Girl In Tennessee
16. I'll Never Love Another
17. Doin' My Time
18. Pike County Breakdown (Instr.)
19. Cora Is Gone
20. Preachin', Prayin', Singin' (No Fiddle..
21. Pain In My Heart
22. Roll In My Sweet Baby's Arms
23. Back To The Cross
24. Farewell Blues
25. Old Salty Dog Blues
26. Take Me In A Lifeboat
27. Will The Roses Bloom (Where She Lies S..
28. I'll Just Pretend
Disk 2
01. Come Back Darling
02. I'm head over Heels in love
03. I'm Waiting To Hear You Call Me Darling
04. The Old Home Town
05. I'll Stay Around
06. We Can't Be Darlings Anymore
07. Jimmie Brown, The Newsboy
08. Somehow Tonight
09. Don't Get Above My Raising
10. I'm Working On A Road
11. He Took Your Place
12. I've Lost You
13. 'Tis Sweet To Be Remembered
14. I'm Gonna Settle Down
15. Earl's Breakdown
16. I'm Lonesome And Blue
17. Over The Hills To The Poorhouse
18. My Darling's Last Goodbye
19. Get In Line Brothers
20. Brother, I'm Getting Ready To Go
21. Why Did You Wander?
22. Flint Hill Special (Instr.) **This is the Toughest Challenge for Picking there Is **
23. Thinking About You
24. If I Should Wander Back Tonight
25. Dim Lights, Thick Smoke
26. Dear Old Dixie
Disk 3
01. Reunion in Heaven
02. Pray for the Boys
03. I'll Go Stepping Too
04. Id Rather Be Alone
05. Foggy Mountain Chimes
06. Someone Took My Place With You
07. Mother Prays Loud In Her Sleep
08. That Old Book Of Mine
09. Your Love Is Like A Flower
10. Be Ready For Tomorrow May Never Come
11. Till The End Of The World Rolls Around
12. You're Not A Drop In The Bucket
13. Don't This Road Look Rough And Rocky
14. Foggy Mountain Special (Instrumental)
15. You Can Feel It In Your Soul
16. Old Fashioned Preacher
17. Before I Met You
18. I'm Gonna Sleep With One Eye Open
19. Randy Lynn Rag (Instrumental)
20. On My Mind
21. Blue Ridge Cabin Home
22. Some Old Day
23. It Won't Be Long
24. No Mother In This World
25. Gone Home
26. Bubbling In My Soul
27. Joy Bells
28. What's Good For You
Disk 4
01. No Doubt About It
02. Who Will Sing For Me
03. Give Mother My Crown
04. Six White Horses
05. Shuckin' The Corn
06. I'll Take The Blame (Previously Unissued)
07. Don't Let Your Deal Go Down
08. A Hundred Years From Now
09. Give Me The Flowers While I'm Living
10. Is There Room For Me
11. I'll Take The Blame
12. Let Those Brown Eyes Smile At Me
13. I'll Never Shed Another Tear
14. I Won't Be Hanging Around
15. I Don't Care Anymore
16. Big Black Train
17. Mama's And Daddy's Little Girl
18. Crying Alone
19. A Million Years In Glory
20. Heaven
21. Building On Sand
22. Jesus Savior Pilot Me
23. Crying My Heart Out Over You
24. Ground Speed
25. Who Knows Right From Wrong
26. Iron Curtain
27. Cabin On The Hill
28. Someone You Have Forgotten
29. Foggy Mountain Rock (Instrumental)
30. You Put Me On My Feet (When You Took Her Off of My Hands).