Chess At Work
Lunchtime was an hour long at Hope Creek!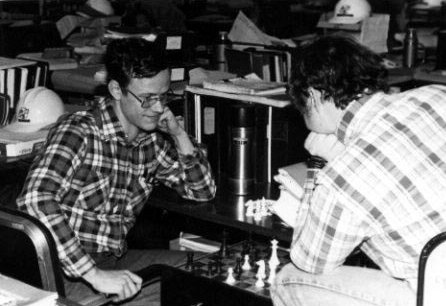 Myself playing the Black pieces against Roger Walpole
who happened to be the "Nuclear Rooks" team Captain!
This was great lunchtime fun when I worked for Bechtel Power Corporation.
A bonus was the company sponsoring our trips to the US Amateur National
Team Chess Tournament- Eastern Division in Northern New Jersey.
The Nuclear Rooks played in the Industrial Division. We didn't win the
events, but we did "take" a few chessplayer "scalps" before we were done!
Not pictured but on the team: Daniel Testa from Baltimore MD, and
David Lerner (From U.S.S.R). Photo Credit: Bill McCune of Bechtel H.R.
Please visit my Chess Links Page