World's tallest man visited Sandusky, Ohio!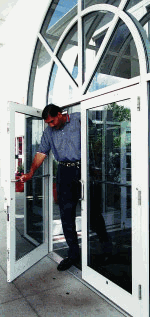 Sandusky Register
Tuesday, June 27, 2000 By BRAD DICKEN of the Sandusky Register (PERKINS TWP):
The average man is 5-feet-9-inches tall. Aurangzeb Khan towers above that at a solid 8 feet.
At 38, Khan only stopped growing four years ago, about the same time he married his 5-foot-8-inch wife.
"I feel great," he said. Originally from Bahaaval Pur Punjab in Pakistan, Khan said he arrived in the
United States 20 years ago.
He's worked as a taxi driver, bouncer and store manager, along with numerous odd jobs, to pay the bills.
Because of his size, Khan buys everything custom-made, from his shoes to his Chevy van.
Currently, he's working for Sterling and Reid Brothers 3-ring circus.
He will appear in shows at 4:30 p.m. and 7:30 p.m. Wednesday and Thursday (June 28 & 29,2000)
at the Erie County Fairgrounds., Sandusky, Ohio.
In the meantime, he's staying at the Comfort Inn in Perkins Township.
Khan isn't the star of the show, he just moves about the circus before, after and during intermissions.
Basically, he's the biggest spokesman around. He used to be part of the act at Ringling Bros. and
Barnum & Bailey Circus, but left about a year ago to join up with Sterling and Reid.
Staying at the Comfort Inn is a study in making things work.
The beds are too short for Khan, so the staff is improvising extensions.
Some other hotels have been less than accommodating, Khan said, adding that it can be quite a challenge
to accommodate a frame of that size that weighs 380 pounds. Doors, hallways, showers and other people's
cars are mostly too small for him. But Khan's not bothered by his size. It's always been that way.
It just takes some work. "Before, when I was in school, I was always taller than (classmates)," he said.
In fact, he truly enjoys his job, which consists of answering questions about what it's like to be that tall.
He's also quite used to getting his picture taken. "Everyday it's 'how tall are you?' and 'what size shoes
do you wear?'" he said. The traveling is good, too, he says. He's been to 100 cities in the U.S. since
January and hasn't been back to his North Miami, Fla. home in the same amount of time.
And besides, odds are good that Khan is the tallest man in the world.
The Guinness Book of World Records will say so in its next edition, Khan said.
According to the Guinness book, the tallest person who ever lived was Robert Wadlow, who died in 1940.
He was 8 feet 11.1 inches tall.
The tallest man alive in the U.S., according to the 2000 edition of the Guinness Book of World Records, is
Manute Bol, who stands at just over 7 feet 6-3/4 inches and briefly played professional basketball.
The tallest woman alive is Sandy Allen, who stands at 7 feet 7-1/4 inches.
Khan's parents aren't that tall, he says. His father stands 6 feet tall, while his mother is only
5-feet-7-inches. His two brothers are also short, standing 6-foot and 6-foot-1-inch, respectively.
************************************************************************************
Sandusky Morning Journal
SANDUSKY -- 6-28-2000 by Craig Rimlinger:
While growing up, many children are told to reach for the stars.
For Aurangzeb Khan, this may have taken on a literal meaning.
Khan, at 8 feet tall, is the world's tallest man. He will be making appearances in the Sandusky area today
and tomorrow (June 28 & 29, 2000) at the Erie County Fairgrounds with the Sterling & Reid Bros. Circus.
''I feel great. It is all given by God,'' he said. ''There is nothing given by self.
I feel very good about my height.'' Khan, 38, grew up in Pakistan, where even at a young age,
he stood out because of his height. ''I was always taller than my class fellows in school and college,
'' Khan said. By the ninth grade, he was already 6 feet tall. "'We would play basketball and the ball
would get stuck on the net and I was the only one who could get it,'' he said. In addition to being 8 feet tall,
he weighs 380 pounds and wears a size 20 shoe. He has all of his clothing and shoes custom made.
Khan said there is no history of extreme height in his family. His dad is 6 feet, his mom 5 feet 7 inches
and he has two brothers, one 6 feet and the other, 6 feet 1 inch. Khan moved to Miami when he was 20
years old, where he worked a variety of jobs, from taxi driver to club bouncer.
He started performing with the Ringling Bros. and Barnum & Bailey Circus in 1998.
As part of his show, he would balance people on his shoulders. He joined Sterling & Reid Bros.
after his tour with Ringling Bros. ended in 1999. Today, he spends his time meeting with circus-goers.
''I go back to the show and I meet people during, after and before the show. I do meet and greet stuff.''
His ''meet and greet'' activities include answering people's questions and posing for photos.
This does not mean being this tall has no drawbacks. One of them includes accommodations that
have to be made at hotels, such as the Comfort Inn where he is staying.
''This is a big issue for my life. I had to talk to the general manager before talking to the front desk,''
he explained. ''I said I need a table, I need an extension to my bed and shower.
The Comfort Inn did everything.'' Traveling to strange cities and sleeping on beds with extensions
may not sound like an ideal lifestyle, but Khan has no problems with it.
''There is more opportunity to see the United States and overseas and to meet a lot of people,'' he said.
The three-ring Sterling & Reid Bros. circus performs under the world's biggest big top at
4:30 and 7:30 p.m., today and tomorrow. (June 28 & 29, 2000)
Links:
Aurangzeb Khan's personal website
Tallest Folks Page
Back to Tallest Folks Page