Pilgrim II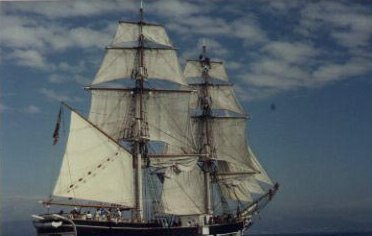 This Brigantine Rigged Ship is a replica of the famous "Hide Brig" that
frequented west coast ports in 1834 and 1835. as featured in the great
American Classic "Two Years Before The Mast" by Richard Henry Dana.
This magnificent replica was designed by noted marine architect Raymond
E. Wallace. Credit for this Photo Series goes to Mike Wilford, a Nuclear
Instrument Mechanic working at the Davis Besse plant. He provided
these great photos, and provided me permission to scan them. He was
part of the project in 1985, under the supervision of the project's First
Mate. He learned fast all the intricacies of marlinspike seamanship,
and the anachronistic shipboard skills of sailing the Brig Pilgrim II.
Below are links to some photos that testify to a very worthwhile
project completed!
Project and Ship Owner:
Orange County Marine Institute
Mike's Pictures of the Pilgrim II:
Photo 1
Photo 2
Photo 3
Photos 4 & 5
Photo 6
Photo 7
Photo 8
Photo 9
Photo 10