Clydesdale Horse Dressed for the Hitch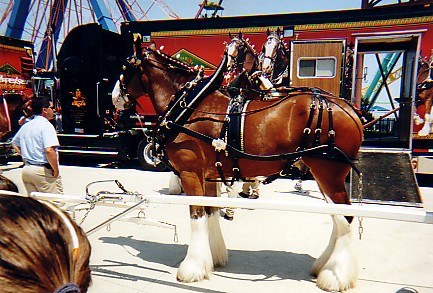 Photo Credit: Rich Young 060802
This picture shows how beautiful the Clydesdale looks in full "regalia"!
Behind the horse is the open ramp from which equipment is stored, such as
harnesses, bridles, leather strapping, hitching hardware and linkages. This
horse is positioned as one of the wheel pair. The four pairs are hitched in
the following sequence: wheel pair, body pair, swing pair, and the lead pair.
The horse standing in the picture was the first to be fitted up and brought
to its team position as the right wheel horse. The left wheel horse is being
dressed just behind the right wheel horse in the picture. The customized
travel truck is seen here with the fancy logo and pictures of the Clydesdales,
painted on the side panels, in front of the access doors. The tractor part of
the transport truck is painted black, with the Anheuser-Busch logo on each side.