Clydesdale Horses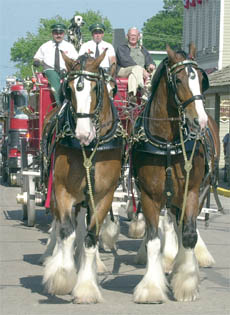 Clydesdales parading in Put-in-Bay, Ohio 6-7-02
Photo Credit: Dan Miller / Sandusky Register
These horses have awesome size and strength, "inherited" from the great war horses of Europe.
An adult Clydesdale averages 18 hands high, and weighs between 2000 - 2300 pounds!!
They were brought to America around 1842 for use as work horses.
They were used for delivery transportation until the invention of trucks.
Presently, there is a beverage firm who uses these huge, lovely horses for promotional purposes.
The beginning of the Team was as simple as this: To celebrate Prohibition's conclusion in 1933,
Mr. August A. Busch, Jr, presented his father with a team of "Budwesier Clydesdales"
equipped with a bright red wagon. This started the tradition using these magnificent horses.
The Clydesdales are bred at the St Louis, Missouri facility called "Grant's Farm".
There are about 250 Clydesdales there typically at this breeding farm, quite a busy place!
Hungry animals, indeed they are!! In two daily meals, each adult working Clydesdale horse consumes
a total of 50-60 pounds of hay, 20-25 quarts of feed (a mixture of beet pulp, crimped oats, bran, minerals,
salt, and molasses!), and they drink up plenty of water- as much as 30 gallons!
There are 5 Budweiser Clydesdale teams that travel all over the country.
Each deployed team travels in a trio of custom-built tractor-trailer stable vehicles.
Two trucks carry a total of 10 horses with hay, feedstock, and water. The third
truck carries the bridling leather and cart; including many intricate hitching parts.
The crew of 7 travels among the three vehicles.
My "Gallery" of Clydesdale Horse Pictures:
"Nightscribe" standing in front of a 8-horse team of Clydesdales!
Clydesdales parading by the Perry Monument!
Clydesdales heading into the Village of Put-In-Bay!
The famous white-feathered hooves of the "Budweiser Clydesdales"!
Clydesdale horse pacing in front of the Boathouse Grille in Put-in-Bay Village!
Clydesdale Team Truck Logo!
Clydesdale Dressed to Hitch Up at Cedar Point!
Clydesdale Team Ready to March at Cedar Point!
Clydesdale Team Leaving the Staging Area for the Midway Parade at Cedar Point!
Clydesdale Team Returns to the Staging Area at Cedar Point!
40-horse Clydesdale hitch in a Milwaukee, Wisconsin parade!
Links to websites featuring Clydesdale Horses
Torbruad Clydesdale Horses
Clydesdale Marketing Site Links
Clydesdale International Magazine
Clydesdale and Shire Draft Horses
Clydesdale Breeders USA- Clydesdale FAQ and History!
Clydesdale Horse Society of Edinburgh, Scotland
Note: Above information on the Budweiser Clydesdales was extracted from a "Item 1016168" Brochure provided at the parades by Anhauser-Busch, Inc.