JFK the Sailor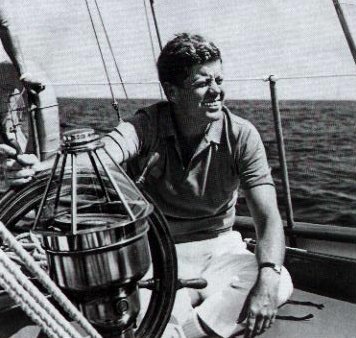 John F. Kennedy - in 1960, takes the helm!
Something Special in Military Strength was JFK's Lasting Legacy:
JFK was the U.S. President who, in 1961, launched Unconventional Warfare;
the protective strategy against the growing threat of Guerrilla Warfare. This
new strategy was implemented in the form of all-terrain Special Forces! A special
breed of unconventional warrior was created to allow full operational capability
in SEA, Air, and/or Land (Later, Space!). Any and all foreign environments!!
This capability was part of the missions of the ultrasecret highly elite units later
known to be called the Navy SEALs, who have been the best America has in
unconventional fighting power, since January 8, 1962, (the SEALs' official
commissioning date), The Vietnam War was their ultimate testing ground.
The SEALs proved that America was able to counter the horrors of Guerrilla
War in the jungles and swamps in Vietnam! They took the war right to their
own backyard! The enemy no longer could hide, thanks to the SEALs!
Visit my Navy SEAL tribute site for more on America's Ultimate Commandos!
Photo Credit: from the "Portraits of the Presidents' by Hugh Sidey, Time Journalist