The First Navy SEAL worked in the "Final Frontier"
Space!! New Acronym can be "SEALS":
Sea Air Land and Space!!!!
Been There and Did it - He's Back home!!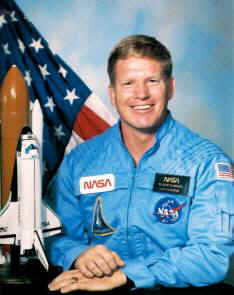 Bill Shepherd Biographical Data

NAME: William M. Shepherd (Captain, USN)
NASA Astronaut, former UDT/SEAL/SBU Commando

PERSONAL DATA: Born July 26, 1949, in Oak Ridge, Tennessee, but considers Babylon,
New York his hometown. Married to Beth Stringham of Houston, Texas. He enjoys sailing,
swimming, and working in his garage. His mother, Mrs. Barbara Shepherd, resides in Bethesda,
Maryland. His father, Mr. George R. Shepherd, is deceased.

EDUCATION: Graduated from Arcadia High School, Scottsdale, Arizona, in 1967; received a
bachelor of science degree in aerospace engineering from the U.S. Naval Academy in 1971, and
the degrees of ocean engineer and master of science in mechanical engineering from the
Massachusetts Institute of Technology in 1978.

ORGANIZATIONS: American Institute of Aeronautics and Astronautics (AIAA).

SPECIAL HONORS: Recipient of NASA's "Steve Thorne" Aviation Award.

EXPERIENCE: Shepherd was graduated from the U.S. Naval Academy in 1971, and has served
with the Navy's Underwater Demolition Team ELEVEN, SEAL Teams ONE and TWO, and
Special Boat Unit TWENTY. For you SEAL Fans, he graduated with BUD/S Class 64!
The picture below shows Mr Shepherd graduating as Ensign, wearing his SEAL Trident & Jump Wings!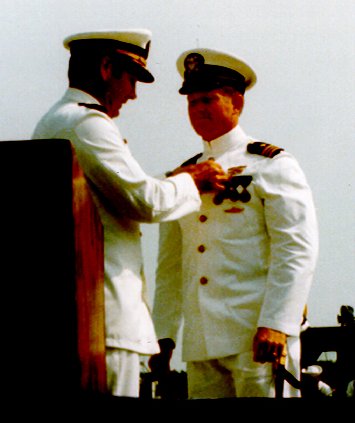 NASA EXPERIENCE: Selected by NASA in May 1984. Selected by NASA in May 1984. He made
three flights as a mission specialist on STS-27 (December 2-6, 1988), STS-41 (October 6-10, 1990)
and STS-52 (October 22 - November 1, 1992), and has logged 440 hours in space. From March 1993
to January 1996, Shepherd was assigned to the Space Station Program and served in various
management positions. He is currently involved as Commander of the International Space Station flight.

LATEST ASSIGNMENT: Shepherd was on a three person crew launched to the International
Space Station aboard a Soyuz rocket from the Baikonur launch site in Kazakhstan on Oct 30, 2000!
His mission was completed after 4-1/2 Months!
Credits: CNN/NASA