Overdue Medal Of Honor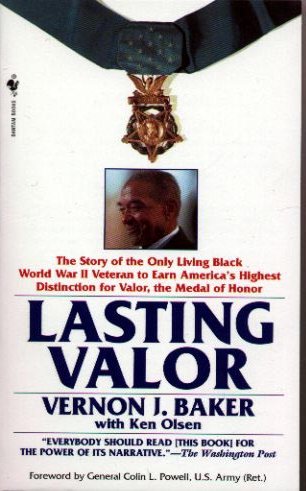 An Excellent Story on overcoming ALL odds!!!!!
Citation:
First Lieutenant Vernon J. Baker
Citation: For extraordinary heroism in action on 5 and 6 April 1945, near Viareggio, Italy.

Then Second Lieutenant Baker demonstrated outstanding courage and leadership
in destroying enemy installations, personnel and equipment during his company's
attack against a strongly entrenched enemy in mountainous terrain. When his
company was stopped by the concentration of fire from several machine gun
emplacements, he crawled to one position and destroyed it, killing three Germans.
Continuing forward, he attacked and enemy observation post and killed two
occupants. With the aid of one of his men, Lieutenant Baker attacked two more
machine gun nests, killing or wounding the four enemy soldiers occupying these
positions. He then covered the evacuation of the wounded personnel of his
company by occupying an exposed position and drawing the enemy's fire.
On the following night Lieutenant Baker voluntarily led a battalion advance
through enemy mine fields and heavy fire toward the division objective.

Second Lieutenant Baker's fighting spirit and daring leadership were an
inspiration to his men and exemplify the highest traditions of the Armed Forces.
US News Article
Hero's Album
PBS Live's Account of presentation
The list of men awarded with Baker