Congressional Medal of Honor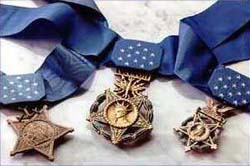 The Congressional Medal of Honor is the highest medal awarded by the United States.
It has only been awarded 3,428+ times in the nation's history. Below is an excerpt of the
regulation that describes the STRICT eligibility criteria for award of the Medal of Honor...
a. The Medal of Honor , section 3741, title 10, United States Code (10 USC 3741), was established by Joint Resolution of Congress, 12 July 1862 (amended by acts 9 July 1918 and 25 July 1963).
b. The Medal of Honor is awarded by the President in the name of Congress to a person who, while a member of the Armed Services, distinguishes himself or herself conspicuously by gallantry and intrepidity at the risk of his life or her life above and beyond the call of duty while engaged in an action against an enemy of the United States; while engaged in military operations involving conflict with an opposing foreign force; or while serving with friendly foreign forces engaged in an armed conflict against an opposing armed force in which the United States is not a belligerent party. The deed performed must have been one of personal bravery or self-sacrifice so conspicuous as to clearly distinguish the individual above his comrades and must have involved risk of life. Incontestable proof of the performance of the service will be exacted and each recommendation for the award of this decoration will be considered on the standard of extraordinary merit.
From chapter 3-6, AR 600-8-22 (Military Awards) dated 25 February 1995
Medal of Honor Web Resources:
Congressional Medal of Honor Society
Medal Of Honor Museum!
Medal of Honor Memorial
Home of Heroes! MOH Site
FBI Medal Of Honor Protection Law Site with Pictures
US Army Medal of Honor Citations:CompleteTexts
Marine Medal of Honor recipients
The Bravest Belong To This Society!!
Great American Military Heroes!!!
List of 240 Recipients of the Medal of Honor who served in Vietnam
List of Hispanic Recipients of the Medal of Honor Site 2 Site 3 Site 4
Randy Lee Everette's MOH website!
Navy SEALs who won the Medal of Honor (Just 3 folks!)
Medal of Honor: Brief History
Medal of Honor for Somalian Conflict
Ann Walker: Solitary woman Medal of Honor recipient
More Information on Medal of Honor Law:
1. Code of Federal Regulations: 32 CFR 578.4
2. United States Code: 10 USC Sections
Tribute Sites for this web:
Roy Perez Benavidez: Green Beret in the Finest tradition!
A Very Late But Very Special Medal of Honor Presentation
Another Late MOH 2-8-00 to Alfred "Doc" Rascon
Special Resolution for Senator Bob Kerrey