Welcome to my Military Section!
Dedicated to the Men who Defend America in
All sorts of ways: Conventional or Otherwise!!
For Valor Supreme: The Congressional Medal of Honor
Special Ops Teams: First To Cross Enemy Lines!!!
Navy SEALs Could be The World's Toughest Fighters, Period!
The #1 Special Operations Website
Another interesting SPECWAR Site!
The "Best of The Rest"
The Navy Corpsmen: Military Healers!
Air Support:
US.AF AC-119 Gunships
Aviation links
"What's His Rank??"Telling Them Apart:
Insignia Resources
How to depict Military Organization Symbols!
MIL-STD-2525B
SSMC: Symbology Standards Management Committee
Career Gateways for Veterans!
Vetjobs.com
Green - Gray
Corps Careers
Dedicated to Serve And Defend:
Major Branches of The US Military
Milnet Central
Military DOD Almanac
Top Brass
Military Work Ethic that may be lost today:
Basic Rules for Doing Your Job by Adm HG Rickover
My site on Adm Rickover, Father of the Nuclear Navy
Find boats, ships, vessels anywhere at sea with Marine Traffic Com!!
Special Military Sites:
Bombing of Japan- from the US Air in WW II-real footage documentary, the battle ending in the LAST Bomb dropped!
Accepting the soldier back into the family
Hans Halberstadt: Photographer of Military Action!
Planes and Pilots of WW II
Pictures of Vietnam by a Battle Photographer
Agent Orange Page on a bad Memory with lasting consequences!
An Example of a Very Decorated U.S. Army Soldier
Military Order of the Purple Heart
A Special for my Dad : USS Ancon
No Greater Love
American Heritage
Army CSM O'Brien is leaving early, and here's why! Mirror Site
Diggerz.org
Golden Knights Parachuting Team
Blue Angels Aeronautics Demonstration Team
Vietnam War Declassification Project
Veterans.com: History Channel Site
Military Community: Keep track at Military. com
War Stories
A super photo of the Sound Barrier being broke by a Navy Jet!
Something Special!


Vets: Find your unit and mission flag at U.S. Images
Just For Our Veterans!
Other Military Links
Soldier Of Fortune! The Sitrep is in every issue of SOF!
It's The Law Like No Other! 10 CFR 167!

The price of being Commander-In Chief was high during the escalation
of the Vietnam War: A picture of sorrow for lost American Lives!

Future Soldiers: Reach Age 18 yet?? Then Get Started!!!:
Selective Service System Registration Website

A Special Place to Go! West Point Military Academy! A good
friend of mine looked around the grounds and documented
the spectacular sights with lovely photographs! Take a Look!
Travel along to the Hudson at West Point "Albumweb"!

Civil War Web:
Ulysses S. Grant "Home Page"
World War II Webs:
In Memory Of World War II
Memories Of War
World War II Oral History
New Brunswick (Rutgers) Oral History WW2 Archives
My Dad's Contribution to WW2: Photo Documentation!
Iwo Jima
Geopolitical Warfare:
Terrorism / Counter-Terrorism
The Cold War page from CNN
Arms Trade Revealed
NSA Declassified? "No Such Agency"
NSA Archives
Bay of Pigs Declassified
National Security Roadmap
On Vietnam History
Teach Vietnam
Patriotic? Then:
Take the Pledge!!!
What does our Military Fight For??
Freedom! And Independence!!
That day on July 4, 1776
Freedom is never Free!!
World's Most Famous Traitor!
Hanoi Jane's Dedication Page
Defenders of the U.S. Flag:
Who was Betsy Ross, the 1st flag maker for the U.S. ?
Be Proud of the U.S. Armed Forces:
Training is Where Excellence Begins!
Army ROTC For College Military Training!
The Hymn of The US Navy: "Eternal Father" Or The "Navy Hymn":
Eternal Father": The "Navy Hymn"!! Original Words!!
US Navy Academy Drum & Bugles Corps: "Navy Hymn"!
The "Navy Hymn" Explained! The Naval Historical Center
"Eternal Father": See the Music and hear it here! by Electronic Hymnal
Playing TAPS:
How "TAPS" used for honoring the fallen got started!
U.S. National Anthem:
"The Star Spangled Banner"
Signalling The Old fashioned Way:



The Semaphore Flag System An Old Time Way to Keep In Touch
Guys & Gals Carrying the Insignias:
Here's A Tremendous Supply of Patriotic/Military Songs!
Laura's Midiheaven: Check This Out For Your Webs!
Special POW/MIA Websites:

DPMO: Defense Prisoner-of-War and Missing Personnel Office
Wolfsong's POW/MIA Tribute
POW Network
Martial Arts may help a Warrior
Bushido Online: Samurai
Other Martial Arts Systems c/o Bushido Online
American Combative Association: CQC to be learned With Martial Arts, not itself a Martial Art
WEB RING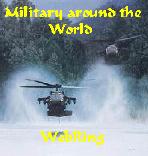 This Military around the World site is owned by NightScribe.



Want to join the Military around the World webring?

[Skip Prev] [Prev] [Next] [Skip Next] [Random] [Next 5] [List Sites]
A Small Yet Essential Disclaimer:
I am NOT A SEAL Or Any Other SPEC OPS/ Veteran.
Due To Medical Reasons, I'm not even a veteran. (4F in Draft '68.)
I can only do my service the Web Way "without a uniform"! :
This Is Simply A Site Especially to Honor The Brave Warriors!
As a humorous Web "aside", here is What I Might have looked like if
The AFEES in Harrisburg weren't so picky about thyroid patients <G>