Top Brass in Uniform

Today, the highest ranking uniformed Military officers
form a select group called the Joint Chiefs of Staff.
Current JCS composition in the Pentagon is as follows:
JCS Chairman:
Gen. Martin E. Dempsey
Vice Chairman:
Adm. James A. Winnefeld, Jr.
Army Chief of Staff:
Gen. Raymond T.Odierno
Air Force Chief of Staff:
Gen. Mark A. Welsh III
Chief of Naval Operations
Adm. Jonathan W. Greenert
Vice Chief Of Naval Operations
Adm. Michelle Howard
Commandant of the Marine Corps
Gen. James F. Amos
Commandant of the Coast Guard (*)
* This command is now a component of US Homeland Security
Adm. Paul F. Zukunft
***********************************************************************
Top Service Non-Commissioned Officers:
JCS Advisor
Sgt. Maj. Bryan B. Battaglia (Marine)
ARMY
Sergeant Major of the Army
Raymond F. Chandler III
NAVY
Master Chief Petty Officer of the Navy
Michael D. Stevens

AIR FORCE
Chief Master Sergeant Of The Air Force
James A. Cody

MARINE CORPS
Sergeant Major of the Marine Corps
Michael P. Barrett

COAST GUARD
Master Chief Petty Officer of the Coast Guard
Steven W. Cantrell

**********************************************
U.S. Joint Special Operations Command
JSOC Commander: Lt. Gen. Raymond A. Thomas III
Highest Ranking Navy SEAL
The two highest-ranking SEALs in the U.S. Navy were four-star Admirals (O-10) Eric T. Olson
and William McRaven who served three years each as Commander of U.S. Special Operations Command (US SOCOM).
Admiral Olson is the first SEAL to achieve four-star rank as well as the first SEAL to command US SOCOM.

***********************************************
From the Past there was Higher Brass, due to WW2!
Highest ranked Military leaders in History:
Navy:
They Were; Established on Dec 14, 1944:
Army, Air Force:
The temporary grade of "General of the Army" (Five-Star)
was provided for by Public Law 482, 78th Congress,
approved December 14, 1944, and became permanent on
March 23, 1946, under Public Law 333, 79th Congress.
They Were; With Dates of Rank:
George Catlett Marshall Dec 16, 1944 Link 1 Link 2 /Bio
Douglas MacArthur Dec 18, 1944 Link1 Link2
Dwight David "Ike" Eisenhower Dec 20, 1944 Link 1 Link 2
Henry Harley "Hap" Arnold Dec 21, 1944 (*) Link 1 Link 2 Link 3
(*)Hap was Re-designated General-of-The-Air Force May 7, 1949
Omar Nelson Bradley Sept 22, 1950 Link 1 Link 2: Very detailed bio!
It Should be Known That The 5-Star Ranks Are Only
Established by Acts of Congress, No One Living Today Has
This Rank Now. Note: Bradley was the very last
5-Star Ranked Officer. He Died April 8, 1981.
It should also be known that there were Higher Ranks
designated by Presidential and Congressional Actions:
General of The Armies of the United States:
(WW I) Established by Public Law 45, H.R. 7594, Sept 3, 1919.
John J. Pershing Link 1 Link 2 Link 3/bio
Arlington Cemetary Biography Autograph from his Book
General of The Armies of The United States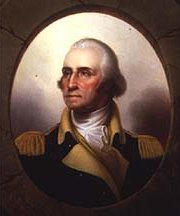 George Washington (By Decree, Post-humously), by Pres.
Gerald Ford, 1976; who specified that he, George
Washington, First President and Commander-In-Chief of
The United States, would rank First among all Officers
of the United States Armed Forces, past and present.
Reference: Public Law 94-479 [H.J. Res 519], Approved
October 11, 1976; enacted from House Report 94-1388.
Check out also the George Washington Papers Site 2
The Five Star Insignia



From Army Regulations 600-35:
"Personnel: The Prescribed Uniform"
Some 5 Star Pictures
Infoplease article on the Top Ranking Officers in the Military
More on the Historical 5 and "6 star" Ranked Army Military Brass
Military List (Naval Chain of Command miscellaneous web listing)