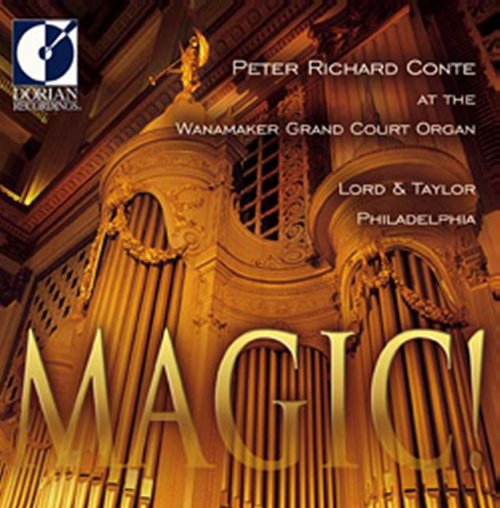 !!!!!!! An absolutely "MUST-GET" Album !!!!!!!
A truly wonderful sound coming from the recently restored Wanamaker Organ!!
!!! Awesome is an understatement !!!
I strongly recommend ordering, then PLAYING, this "Magic" CD right away !!
This recording even has HDCD format code! It was truly recorded for full dynamic range;
from the WAY Low tones emanating from the big 32 Ft Pedal stops (16 Hz!!) up to the high pitch
and upper harmonic tones radiating from the tiny 1/4" stops (20KHz and higher harmonics).
Dorian Recordings made the superb recording, using absolute state-of-the art equipment!
The number of the release is xCD-90308; available from the "Friends of the Wanamaker Organ"
Music Selections, mostly transcriptions, were brilliantly developed and played by Peter Richard Conte, at the giant
6-manual console of the largest operating pipe organ in the world, containing 461 Ranks totalling over 28,414 pipes!
The 6 compositions on this fantastic CD were all transcribed for this recording by Peter Richard Conte, except Track 6 noted below:
Track 1: "Night on the Bald Mountain"... Modest Moussorgsky (1839-1881)
Track 2: "Wotan's Farewell and Magic Fire Music from the Valkyries ... Richard Wagner (1813-1883)
** Transcribed by Edwin Lemare; Edited by Peter Richard Conte **
Track 3: "Sorcerer's Apprentice"... Paul Dukas (1865 - 1935)
Track 4: "Overture to the Merry Wives of Windsor"... Otto Nicolai (1810-1849)
Track 5: "Cockaigne Overture 'In London Town' OP 40" ... Sir Edward Elgar (1857-1934)
Track 6: "Nimrod from the Variations, 'Enigma' OP 86" ... Sir Edward Elgar (1857 -1934)
** Transcribed by William H. Harris **
Wanamaker Organ Tribute Page
Pipe Organ Links Page
Music Sites Menu
Credits: "Magic" CD image is Copyright 2001 by Dorian Recordings, Inc. Permission to post it on this site was
graciously granted by the President of the Friends of the Wanamaker Organ.