Precious Memories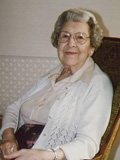 In Memory of "Grammy" Shafer
Cecelia Fairbairn Winthrop Shafer
Nov 25, 1900 - May 29, 1997
A Long Life of being a Happy Memory Maker!
One who placed her Family First,
And Loved Us ALL!
Cyber Eulogy for Grammy: My Web Eulogy to the Passing of My Maternal Grandmother
Cecelia Fairbairn Winthrop Shafer, on May 29, 1997.
A Short Note: "Grammy", as my family fondly called her, was Born Nov 25 (My Birthday, too!) in 1900.
She left her family with memories that will last! I sent the following in the form of an E-mail to my Mother
& Father. I was unable to attend the funeral due to my son's High School Graduation and his Shipping
off to Boot Camp! I sent my Love & Regrets for not being there with my Family far away! Later, I was
to learn that the Pastor conducting the Funeral read it before the Mourners. I was so grateful that my
Dad showed it to the Pastor! This E-Mail reached Dad right before the Day of her Funeral!
--------------------------------------------------------------------------------
Everyone needs to pull back the curtains over her memories planted in all our minds and then recall the
wonderful blessings she brought to us in the form of her regular presence in our early lives; traveling
with us to far away places like Lake George, Nova Scotia, Prince Edward Island; and even to local
places I loved, like the Wanamaker Store, and Longwood Gardens. They should also recall our many
many Holiday Gatherings at her humble but treasured home place in Daretown, N.J.!! Christmas, Easter,
and Thanksgiving!! All the relatives there having a ball, playing and munching on Grammy's treats!!
Grammy hearing all our stories, hugging us, having us read the Bible at sacred moments in the house
like on Christmas Eve! I remember Pop Pop and Grammy attending my U.D. graduation!
Yes, her love and presence stretched far, not only to me, but to all who were part of her family! Indeed,
Alexander Avenue in Cape May Point is one of the greatest of her Shared resources!! Many many fond
memories can be brought to mind! I will simply recall the many walks around that beautiful little community,
the ball games in the middle "spoke" park of Cape May Point, the trips to the souvenir place at Sunset
Beach for rock and mineral supplements to my growing collection! The trips to Wildwood!! Wow!! The trips
to the Cape May Boardwalk, all the Shops there; among which I recall the Morrow's Nut House visits to
"nourish" our sweet tooths! I recall some very nice meals she shared with us at fabulous settings like
Smithville Inn, Lobster House, the Country House, and in later years, I remember all the nice dinners
she had with us at Woodstown Diner! I could ramble on, but you all by now get the message, this is a
time to remember all the great wonderful memories Grammy created for us simply by being herself-
a warm, caring, and sharing human being whose love knew no bounds, it seems!
My heart goes out to all who attend Grammy's services! And to my Brother and Sister: You will recall
back to all those great family gatherings and trips, and, like myself, decide she was one of the most
significant sources of wonderful memories we had along with the sweet memories and blessings Mom
and Dad also provided us "Young Children" back then.
Remember her well, my dear family! She was a "treasure jewel" in our family, and I will sorely miss her.
Now we must accept her exit from this earthly existence and think upon / reflect now in our recollections,
how she has affected our lives! In the future, I will have many great thoughts filled with wonder, thoughts
of how marvelously rich our lives were; Not from bathing in a big vat of cash, but from basking happily
in the sunshine of life itself, as we were surrounded by love, happiness, comfort, and wonderful relatives
composed of Shafers, Jarmans, Youngs under "one roof!" in the many family gatherings that we had!
This is why Grammy's putting the right hand binder on the "book of her life" was so rough on me having to
stay home for my son Bill's Graduation. The memories flooded my cognitive "ROM" and I had to acknowledge
them. All I can do now is stay here, but I send this as some thoughts for any eulogy you may propose to deliver
in her honor!!
My Brother Henry and I could have been side by side honorary pallbearers escorting her remains to
the final resting place next to Isaac Roy Shafer's in Daretown. And there will be no "re-runs". With
Grammy's passing, all of the Grandparents we had have now been sent "home". There is therefore no
longer an executive Mom, "Mother-In-Chief" or, CMO (Chief Mothering Officer) in her generation.
Another thing needs to be acknowledged here: Without My Mom & Dad having planned the family trips
to include Grammy & Pop Pop, these memories would be a lot shorter!! Mom and Dad continue to live as
my examples of the Best Family leaders a son could ever hope for! The memories they gave me will also
fill many nooks and crannies of my very happy family life! We still communicate through E-mail, USPS
"snail mail", and occasional visits East! They Simply Are The Greatest!
Her Official Obituary:
Today's Sunbeam, Salem, NJ Monday, June 2, 1997
CECELIA W. SHAFER Longtime area resident Cecelia Winthrop Shafer. 96, of Woodstown died Thursday
in the Friends Home at Woodstown. Born in Jenkintown, PA, daughter of the late George and Frances Milne
Winthrop, she lived in Daretown before moving to Woodstown in the late 1970s. She was a graduate of Albany
High School, Albany, NY, and was a member of First Baptist Church of Woodstown and a member, a past
matron and a district deputy of Order of the Eastern Star, Bethel Chapter 111, Elmer. Her husband, Isaac
Roy Shafer, Sr., died in 1980. Also predeceasing her were an infant son, Robert Warren; a son, Isaac Roy
Shafer, Jr,; a grandson, Lawrence Shafer; a brother, Robert Winthrop;and a sister, Jean Wangner. Surviving
are two daughters, Alice S. Young of Mantua and Barbara S. Hackett, of Woodstown; seven grandchildren;
18 great - grandchildren; and three great - great - grandchildren.
Services are 11 a.m. Monday at H. T. Layton & Son Home For Funerals, 102 S. Main Street, Woodstown,
where friends may call one hour prior. Burial will be in Pittsgrove Presbyterian Cemetery, Daretown.
Memorial Contributions may be made to Memorial Fund, First Baptist Church of Woodstown, NJ 08098
or to Cystic Fibrosis Foundation, Delaware Valley Chapter, 601 Market St., Philadelphia, PA 19100
Feedback on This Memorial
Nov 07 1997, 17:14:49 -- By: Catherine Conn , From: Surfside Beach, south Carolina , e-mail:
mrmicro@sccoast.net
What a beautiful legacy Grammy left to all those who loved her. She was blessed with a long life.
May all those memories bring you peace and joy and know that she left a mark in this world and
will never be forgotten.
Sep 19 1997, 11:23:48 -- By: Janet, , email: jmmoon@mindspring.com
What a nice memorial. God bless you all and thank you for sharing Grammy with the rest of the world.
She seems to have been a very special lady.
Aug 05 1997, 14:14:45 -- By: grumpy
we miss you grammy!
Jul 26 1997, 20:56:20 -- , email: bp1959@mindspring.com
Great Lady, and I'm sure you had a lot of beautiful Grand Kids who worshipped the ground you
walked on.!!! Bryan
Jul 19 1997, 20:17:04 -- By: Mechelle , email: Chelle5@Aol.Com
What a neat lady. I sure she is greatly missed.
Jul 17 1997, 02:22:33 -- , email: Zero13579@aol.com
I enjoyed your photos. It seems Grammy had a wonderful life and your family has a lot of reasons to be
grateful. As a coincidence "Grammy" is the name I chose to be called by my grandchildren. My first was
born 6-13-97. I hope that I can make wonderful memories for them as your Grammy has done for your family.
God bless.
Jul 15 1997, 15:14:20 -- By: Ron Chafe , email: ronald.chafe@snet.net
Didn't know Grammy, but she must have been a wonderful person to have someone care about her so much.
Jul 14 1997, 11:30:31 -- By: SARA , email: ARAS11@AOL.COM
what a beautiful woman... and what a beautiful angel she would make .. she is in a better place and she is
forever watching all of us God bless
Jul 05 1997, 13:45:26 -- , email: ryoung@sagelink.com
Quite a page here. It's nice to have a place to go to once in a while and remember her. You did a nice job.
Virtual Memorials Com may be found here on a Special Website, where you may also post memorials
for your loved ones!!
Re-Posted by Nightscribe, "Just Because" :))))))))