Bluegrass Banjo
The



Staghorn: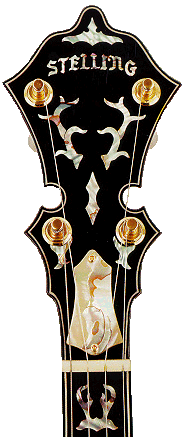 Stelling Staghorn Peghead!
Banjos Are Usually Fancy!
Peghead & Fingerboard Patterns can be Unusually Intricate!
The most Valuable Banjo's Are Pre-WW2 Vintage, Due to
The pre-1941 Gibson Series of Mastertone Banjos are reputed
based on their "fetch value" in the marketplace, to have the Greatest
Tone (A sharp cutting bark sound) and are growing in value!
Look what Stradivarius Violin Did in 200 yrs! Imagine what
a PreWar Flathead will be appraised for many years from now!
Very Intricate Inlay Jobs:
On the Turtle Hill website is found a Super Example of Mother-Of-Pearl Inlay work, done by Larry Sifel.
It is not for sale!
Bob Flesher makes and sells very intricate banjos!
Vintage Banjo Collections:
Great info is available on PreWar banjos!
A Pre-War banjo collection of Michael Shames
Bill's Banjo's Vintage Banjo Collections
Who Played Bluegrass Banjo Best?
Earl Scruggs :) Here are songs and instrumental Tracks and Titles that the
Flatt and Scruggs / Foggy Mountain Boys combo produced 1948-1969!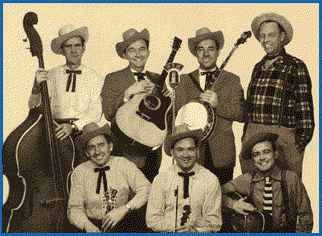 Earl Scruggs is standing in Back Row; 2nd from right!
He was The Greatest 3-finger Picker, ever, of the Bluegrass 5-String Banjo!
He played Banjo & Guitar with the the Foggy Mountain Boys!!
He set THE Standard by which Bluegrass Banjo is supposed to be played!!
(They' broke the mold' after Earl Scruggs was Born)
Foggy Mountain Breakdown, a 1949 Mercury records recording, used in the chase / getaway scenes in Bonnie and Clyde!
These Guys Traveled with the sponsorship of Martha White Flour!
Earl even had his own Biscuit Recipe!
Earl Eugene Scruggs
Rest in Peace!
January 6, 1924 - March 28, 2012, age 88.
The banjo Earl played since 1949: Mastertone Granada S/N 9584-3
Somebody, please!!!!
Write a great history-biography on Earl Scruggs!!!

Obituaries-Bios of Earl Scruggs:
NY Times
LA Times
UK Guardian
Cleveland County, NC
Tennessee Blog
Rhonda Vincent on Earl Scruggs
Ron Stewart on Earl Scruggs
BiographyCom
Peter Cooper Blog
The next "Earl Scruggs"?
Great question!
Maybe Johnny Mazzone of the "Sleepy Man Banjo Boys"
Or Marteka and William Lake (Banjo and guitar team) will develop into a "Flatt and Scruggs"
type partnership, playing and recording "Old School Bluegrass"
Links!
Tribute Page for Flatt and Scruggs
Earl's Biography
Earl's Official Website
Earl's memory preserved: Earl Scruggs Center
Banjo Hangout- Find expert opinion there on "anything banjo"!
Cybergrass!
Gibson Banjo Construction Evolution by Roger Siminoff
Major List of Cybergrass Bluegrass Links!
BlueGrass Unlimited
Bluegrass World
International Bluegrass Music Association
Cybergrass Festival Schedule
Banjo Newsletter
Mandolin Brothers
Mugwamps Links
Gibson copy banjo
Gold Plated Gibson Mastertone banjo
More Banjos played at an Old Time Western Photo Studio
Banjo Jokes
Banjo ASCII Art
Country.Com: Grand Ole Opry Stars
Virtual Bluegrass Festival
Wanna Hear Pickin' & Grinnin' 5 STRING BANJO?
Historic Banjo Designs!
Play The Banjo With a Mouse!!!!!
Midifarm Bluegrass Midi File Lists!
Dear Old Dixie Tablature: Going South Yet?
Cripple Creek Tablature and Others
Earl's Breakdown Tablature: Just Try & Pick it!
Bluegrass Banjo Tablature Pages
Bluegrass World Gateway
The Banjo Conservatory by Paul Hawthorne

Great way for banjos to "sound" powerful like Pre-War:
Get a Tony Pass thin skirt Lost Timbre rim installed!
Stelling uses them in all of his new banjos!
Places to get Original Pre War Gibson Mastertone Banjos?
Try Jim Mills Prewar Banjos first; then:
Mandolin Brothers Vintage & New Dealer: or
Elderly Instruments
My choice of Banjo, although not yet vintage, is Stelling;
however; a Prewar 1927 Bela Voce Gibson banjo, IF you can get one,
is fantastic as well, especially when a conversion 5 string neck is installed on it!
I recently did get a special upgrade done on my Gibson Banjo copy, and it really sounds
"pre-war" great!! - Huber_Truetone_Potted_Gibson_RB4 replica banjo_with_Frank Neat_Neck
is really competing with my Stelling Staghorn for best tone, note separation, and powerful volume!!
Here is an old time style studio picture of a Stelling Staghorn Banjo with its owner.
Supplier / Builder Pages:
Elderly Instruments
Deering Banjo Co.
Huber Banjos
Sullivan Banjos
D.P. Hopkins Banjos
LouZee Banjos - VERY unique and powerful product of the Hopkins Team!
Cox Banjos - including their great resonators!
Stelling Banjo Works: THE Best Banjo Made Today!(IMHO)
Bill Keith D-Tuners
Beacon Banjo Co. (Bill Keith's Company that makes Keith-Scruggs style tuners)
First Quality Music
Turtle Hill Banjo
Morgan Music
Folk of the Wood
Stewart MacDonald
Janet Davis Banjo Store
Get the Paul Hopkins Tone rings at Nashville Plating Service

Flatt & Scruggs-Foggy Mountain Boys!
Worth yet another Look!!!: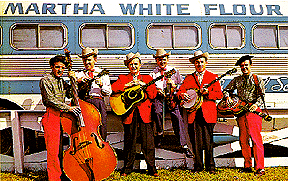 Earl Was Born To Pick Banjo!
All The Great Pickers Copy His Style,
But Extremely Few play Earl's "Picking" style close to Perfectly!
Banjo Lesson Software
Banjo Tutor
Banjo Setup Webs
Banjowizard
My first Gibson was not PreWar, but sounded great anyway!
(RB800 Gold Plated 1975 Gibson Mastertone Banjo)
My second "Gibson" - facsimile RB4 with Mahogany finish.
built in 1977 at Rockmart, Georgia. I still own it but it is getting
attention at an undisclosed master banjo shop : - )