Flatt and Scruggs Bluegrass Tunes
Best of All Flatt and Scruggs Recordings!!!
Flatt and Scruggs 1959-1965 Bear 5 CD set (Import from Germany):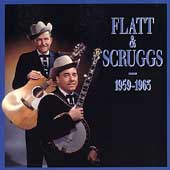 Disk 1:
01. I'm On My Way To Canaan's Land
02. Angel Band
03. When The Angels Carry Me Home
04. I'll Never Be Lonesome Again
05. Get On The Road To Glory
06. Take Me In Your Lifeboat
07. Bubbling In My Soul
08. Heaven
09. Joy Bells
10. Give Me Flowers While I'm Living
11. You Can Feel It In Your Soul
12. Give Mother My Crown
13. Great Historical Bum, The
14. I've Lost You Forever
15. Polka On A Banjo
16. All I Want Is You
17. Shuckin' The Corn
18. Home Sweet Home
19. Fire Ball Mail
20. Cripple Creek
21. Reuben
22. John Henry
23. Cumberland Gap
24. Lonesome Road Blues
25. Sally Goodwin
26. Little Darlin', Pal Of Mine
27. Sally Ann
28. Bugle Call Rag
Disk 2
01. I Ain't Gonna Work Tomorrow
02. If I Should Wander Back Tonight
03. Cold, Cold Loving
04. Welcome To The Club
05. False Hearted Lover
06. Pickin' In The Wildwood
07. Homestead On The Farm, The
08. Foggy Mountain Top
09. You Are My Flower
10. Forsaken Love
11. Storms Are On The Ocean, The
12. Gathering Flowers From The Hillside
13. Worried Man Blues
14. On The Rock Where Moses Stood
15. Keep On The Sunny Side
16. Jimmie Brown, The Newsboy
17. Just Ain't
18. Where Will I Shelter My Sheep
19. I Saw Mother With God Last Night
20. Go Home
21. Handsome Molly
22. Coal Loadin' Johnny
23. Hear That Whistle Blow (A Hundred Miles)
24. Too Old For A Broken Heart
Disk 3:
01. Legend Of The Johnson Boys, The
02. Good Times Are Past And Gone
03. Georg Alley's F.F.V.
04. This Land is Your Land
05. Philadelphia Lawyer
06. Sun's Gonna Shine In My Back Door Someday
07 Hear The Wind Blow
08. I'll Be No Man's Wife
09. McKinley's Gone
10. Nine Pound Hammer
11. Ellen Smith
12. Life Of Trouble
13. Ballad Of Jed Clampett, The
14. Hard Travelin'
15. Wreck Of The Old 97, The
16. Ninetynine Years Is Almost For Life
17. Over The Hills To The Poorhouse
18. New York Town
19. Dixie Home
20. Pastures Of Plenty
21. Bound To Ride
22. When I Left East Virginia
23. Drowned In The Deep Blue Sea
24. My Native Home
25. Coal Miner's Blues
Disk 4:
01. Pearl, Pearl, Pearl
02. What About You
03. Rambling Gambler
04. Mama Don't Allow It
05. I'm Troubled
06. My Saro Jane
07. Train That Carried My Girl From Town, The
08. Little Birdie
09. You Are My Flower
10. Po' Rebel Soldier
11. Old Joe Clark
12. Sally Goodin'
13. Black Mountain Rag
14. Billy In The Lowground
15. Twinkle Little Star
16. Old Fiddler
17. Soldier's Joy
18. Georgia Shuffle
19. Golden Slippers
20. Tennessee Wagner
Disk 5:
01. Salty Dog Blues
02. Durham's Reel
03. Down The Road
04. Rainbow
05. Big Ball In Brooklyn
06. Flint Hill Special
07. Dig A Hole In The Meadow
08. I Hung My Head And Cried
09. Hot Corn, Cold Corn
10. Little Darlin' Pal Of Mine
11. You Can't Stop Me From Dreaming
12. Footprints In The Snow
13. Martha White Theme, The
14. I Wonder Where You Are Tonight
15. Old MacDonald Had A Farm
16. He Will Set Your Fields On Fire
17. Let The Church Roll On
18. Wildwood Flower
19. Hear That Whistle Blow (A Hundred Miles)
20. Fiddle And Banjo
21. Old Leather Britches
22. Ballad Of Jed Clampett
23. Yonder Stands Little Maggie
24. Reuben
25. Mama Blues
26. I Know What It Means To Be Lonesome
27. Foggy Mountain Rock
28. Take This Hammer
29. McKinley's Gone
30. Roll in My Sweet Baby's Arms
31. Gotta Travel On
32. Mountain Dew
Album Notes
Personnel includes: (A lot of these people were Foggy Mountain Boys!)
Lester Flatt (vocals, guitar);
Earl Scruggs (vocals, guitar, banjo);
Merle R. Travis (vocals, guitar);
Burkett H. "Buck" Graves (vocals, dobro, bass);
English P. "Jake" Tullock, Jr. (vocals, acoustic bass, sound effects);
Billy E. Powers (guitar, background vocals);
Maybelle Carter (guitar, autoharp);
John Ray "Curly" Seckler (mandolin, handclapping, background vocals);
William K. "Kenny" Haddock (dobro);
Paul Warren (fiddle, handclapping, background vocals);
Gordon Terry (fiddle);
William Edward "Billy" Liebert (piano);
Joseph S. Zinkan (acoustic bass); and assisting on the sets are:
John W. Greubel,
Douglas G. Kirkham,
M.C. "Muddy" Berry,
William P. "Willie" Ackerman,
Murray M. "Buddy" Harman, Jr. (drums);
Culley Holt (background vocals).
Producers: Don Law, Neely Plumb, Frank Jones.
Reissue producer: Richard Weize.
Recorded at Bradley Film & Recording Studio and Columbia Studio,
Nashville, Tennessee; RCA Victor Studio 1 and RCA Victor Studio 2,
Hollywood, California between August 23, 1959 and November 27,
1963; Recorded live at Carnegie Hall, New York, New York on
December 8, 1962. Includes liner notes by Neil V. Rosenberg.
Import-Germany 5 CD Box Set
Other BEAR Imported Complete CD Boxed Sets:
1948-1959 4 CD Boxed Set
1964-1969 6 CD Boxed Set